I, Sanjana  lives in Madrasi Colony with my family father and a sister. I gave my final examination of Class 10th  from Hope Home and on 21st  March 2020 came back to my home at Madrasi Colony. It was only one day when lockdown was declared emergency in the country due to Covid-19. I was very worried and unable to understand what to do, many problems arises and we have to face many difficulties. As there was total lockdown with strict rules, it become little difficult for us to collect our basic necessities but we get some help by the HOPE School and local Government as they provided us ration for the family.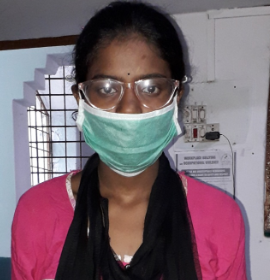 The management at AKS also came forward to help us during this very tough time .They provided and delivered us lunch meals every day for more than one  month from end March  2020 till 17th May 2020 also hygiene kits for our family. They also provided sufficient dry ration for us.  It was really a great help in need and we are very grateful. Awareness and precautions was also spread by the AKS Team for the community people. We also follow all the precautions washed our hands every time we touch anything, before and after meals, wear masks, maintain social distancing and stayed at home. When lockdown was unlocked I started taking tuition classes  for HOPE School children  from 4:00 pm till 6:00pm. I earn as a pocket money sum of Rs.200 for teaching per child and from that money I buy ration (dry ration) for my family.
Now a days I am waiting for my class 10th result, helping my family in household work and other things as all schools are closed till further announcement by the government. I am enjoying with my family and spending some quality time with them with rays of hope as coming days are going to be more happy and bright .
Translated by Mrs. Bindra Rana (HOPE School- Head Mistress) as narrated by Sanjana